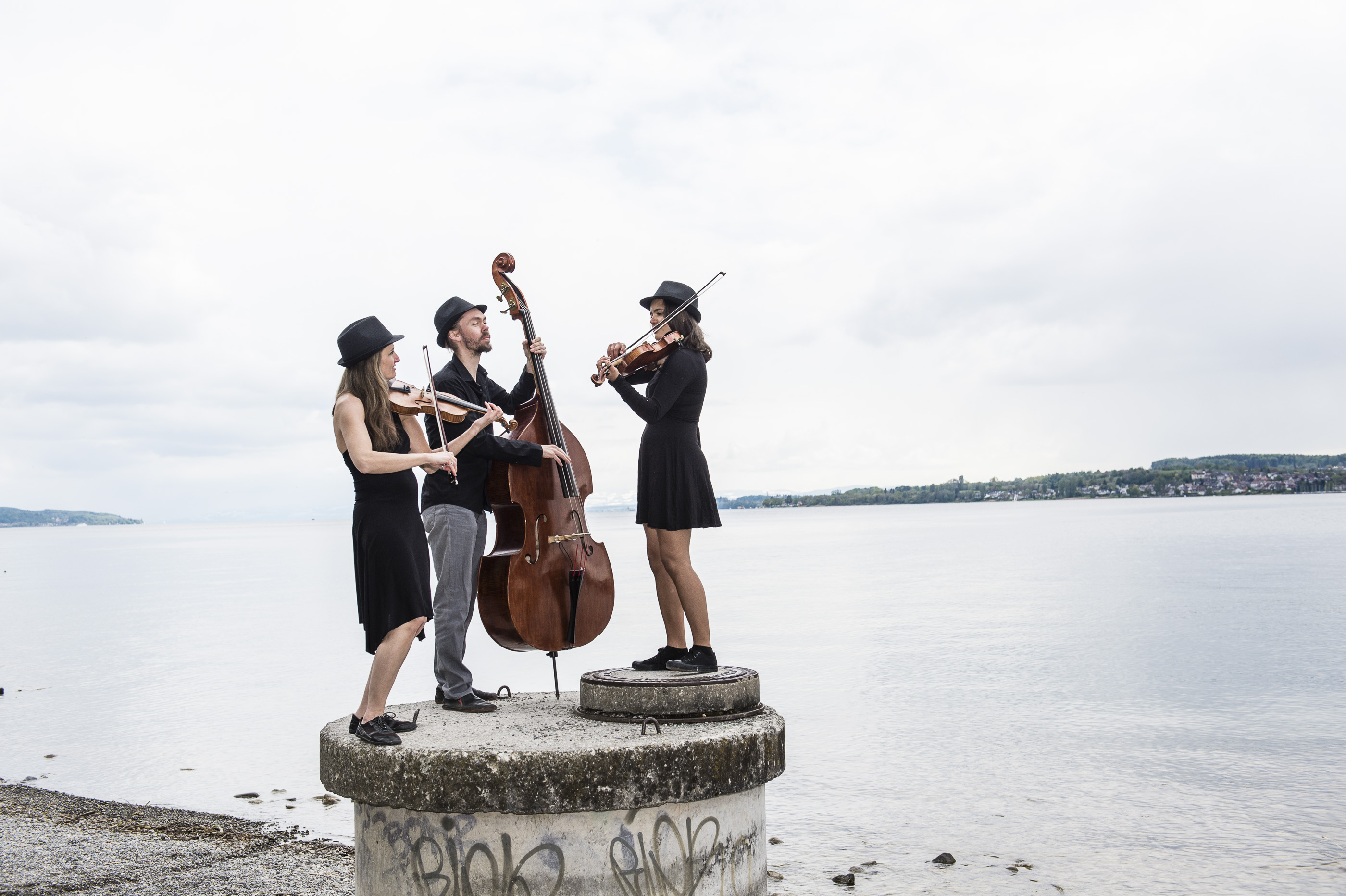 DOT DOT DOT is not your everyday string trio. The trio consists of two violins and a double bass, At the interface between folk, classical and jazz, the trio mixes its self-composed music into a very own, playful, unconventional sound world. Unconventional, creative, playful, energetic with infl uences from all over the world. A successful mix of instrumental music with vocal elements.
That's what the radio program "Querfunk" says about Dot Dot Dot:
Dot Dot Dot includes Christoph Schönbeck on bass, 17-year-old German-Brazilian violinist and singer Nayana Döhner and her mother, Kathryn Döhner, who also plays the violin and sings. Two violins and a double bass, this unusual combination of instruments also gives an unusual sound. In addition, Dot Dot Dot is stylistically quite far, Polkas meet Brazilian sounds, chanson on circus music, Gypsytunes on folk tunes. World music in the truest sense of the word. We award the trio "Golden Orsino" for their album "Falling up".
Band Biography:
• Band was founded in December 2018
• May 2019 – 2nd prize competition folk & world music, Reutlingen, Germany
• June / July 2019 Crowdfunding for debut album "Falling Up"
• July 2019 – Release debut album "Falling Up"
• August / September 2019 – CD release tour in Germany, Czech Republic, Slovenia, Italy, France
and Spain
Band members:
Nayana Döhner – violin / vocals
Kathryn Döhner – violin / vocals
Christoph Schönbeck – double bass / vocals
Media:
Video: https://www.youtube.com/watch?v=TDLVrVaXVAE
Website: http://kathryndoehner.com/musik/projekte, https://www.facebook.com/dotdotdottrio ITunes: https://music.apple.com/de/album/falling-up/1471135412